Create Your Own Photo Prints
Ready to order photo prints for your photography clients? Here's how to get started:
Step 1: Calibrate Your Monitor
Image quality and accuracy are important. You know that better than anyone. So, before you get started with the ordering process, it's absolutely essential that you calibrate your monitor. If there's one step you can skip, this one isn't it.
We highly recommend calibrating your monitor using a colorimeter. A few that we recommend are i1DisplayPro, ColorMunki Display, or ColorMunki Smile.
Step 2: Upload Your Image
Maybe you already know what we're about to say, but we need to go over it one more time:
How to save an image for upload:
Resolution: 150-300 dpi
File Format: JPG
Size the image by width and height in inches
No added borders
Click the video to see more detailed help / instructions
Your Uploaded Files
You have not uploaded any images yet. Please use the upload tool above to get started.
Start Here

Fill out these fields & upload your image. Next, you'll craft your very own piece of art.
Here, you can mass apply selections to your images, and quickly add them all to your shopping cart. The selections you make here can be applied to all of your selected images, which you can then add to your shopping cart -- all at once.
How to Select Images
You can either use the "Select All Images" button below, or select/deselect images one by one. Every image has a checkbox, located in the upper right corner, as seen below: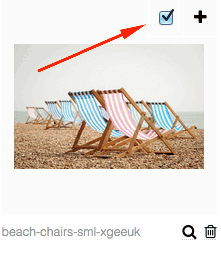 <! -------------------------------- End 3Col -----------------------------!>